H 20 Formwork Beam - Berchply Web
Birchply H-20 Formwork beams for Concrete Shuttering work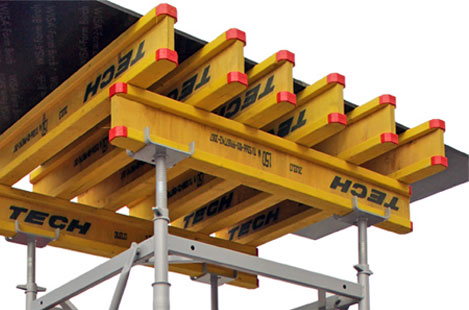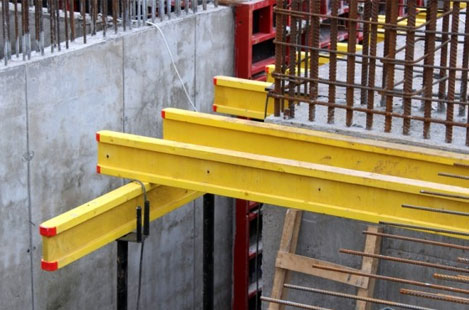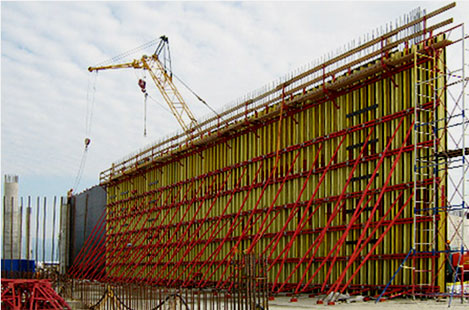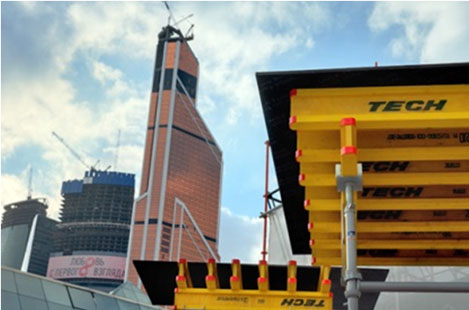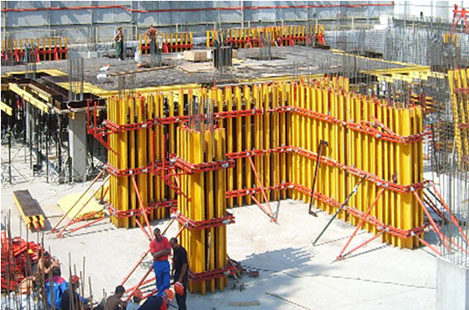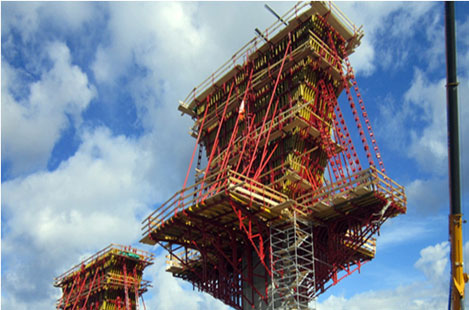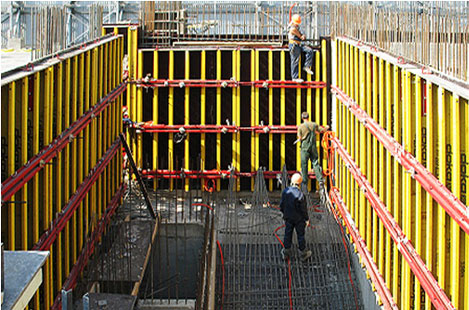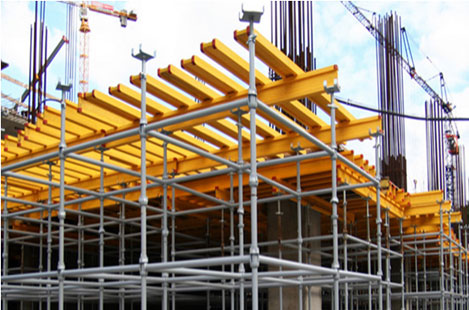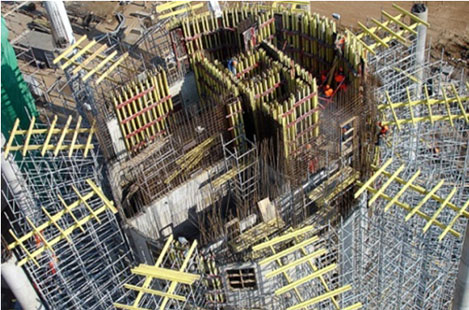 Eximcorp H 20 Prefabricated Formwork Beams are high performance formwork beams designed especially for applications as a load bearing element of Vertical shuttering applications like Wall , Column and Horizontal shuttering applications like Slabs, Beams , Domes etc.,
Both the ends of these high performance beams are secured with protective end caps.
WBO exterior Birch Plywood used in the fabrication of these beams as web is the highest value plywood which makes these beam resilient for high performance in critical conditions.
Produced in Russian Federation using Russian formwork technologies, these beams are reliable, durable and cost effective option in the market today.
Key Features
A reliable spike connection is glued in several layers, thereby eliminating splitting of the bar;
The flange is made of oriented wood, premium grade, foreign producers, due to this, the probability of chips and cracks is reduced when driving nails, self-tapping screws;
To ensure durability, plastic tips are attached to the beams, which increase the strength of the ends of the beams and reduce the probability of their splitting;
High-quality plywood, impregnated with a special resin, makes it reliable and stable in use;
The use of a beam with its exceptionally large length bearing capacity significantly reduces the number of floor slabs, which reduces the number of parts for the assembly and dismantling of the formwork, resulting in reduced working time and higher profitability;
The beam has a high load-bearing capacity and can be mounted in spans of long lengths without such defects as bending, shrinkage and cracks;
Beam, section 40 x 80 mm gives stability and enhances the possibility of driving nails;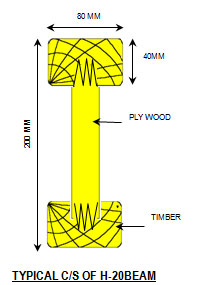 Technical specification
Standard Length - 2,5; 2.90; 3.00; 3.30; 3.60; 3.90; 4.50; 5.90 linear Meter
Depth - 200 mm;
Flange width - 80 mm;
Thickness of the Flange - 40 mm;
Web thickness from 27mm to 24mm.
Weight - 5 kg /linear meter
Allowable bending moment M = 5,0 kNm;
Permissible Shear force Q = 11 kN
Flexural Rigidity EI = 450 kN.m2
Recommended Applications:
Slab and beam shuttering of any types& shapes
Column , Wall shuttering
Shuttering of Special applications like Bridges, Domes etc.,
Properties & Conformities
Waterproof, dimensionally stable, accurate & stable.
Strong, robust and light in weight
Meets EUTR standards,
Meets and exceeds EN- 13377 : 2002,
Meets and exceeds GOST: ТУ 5366-001-99187742-2007 с изм. №3,
Meets & exceeds EN 385 : 1995 for structural lumber used in flange
Meets and exceeds EN: 636-3 for Birch Plywood used in web
Meets and exceeds EN 301 for synthetic resin adhesives used in bonding,
All components have been pre-registered in accordance with the REACH standard on chemicals
What does our promise of Efficiency mean to you
Products that improve your cost, material and energy efficiency
Reliable and timely deliveries
Local knowledge, support and service
Solutions for every formwork application
Proven and documented technical data and environmental statements
Availability options:
Standard Length - 2,5; 2.90; 3.00; 3.30; 3.60; 3.90; 4.50; 5.90 linear Meter.Most commonly available length available Ex-stock is 2.5 & 3 Meter, However, other longer lengths can also be made available with prior arrangement.
Effect of humidity & moisture
Wood in flange and Plywood in web is a living material and is subject to moisture movement according to surrounding conditions, which affects the dimensional stability of the beam. It is important to condition the panels to reach a moisture content near to the equilibrium of the site environment, where these are intended to be used.
Like any other wood-based products, H Beam is also hygroscopic and its dimensions change in response to a change in humidity. A change of 1% in moisture content typically increases or decreases the length, width and thickness by 1% in dimensions and thickness. It is therefore desired that these are stored in clean and dry conditions and are sealed with a suitable acrylic paint from time to time to prevent and/or control ingress of moisture and humidity and consequent swell in thickness and expansion in dimensions.
Storage & handling
The recommended stocking conditions are 20°C and a RH of air of about 60%
Warranty:
Following the safe practices in use, handling and storage, 40 re-uses of these beam is possible in the ordinary course.
Legal information
This information has been drawn up in line with the studies carried out by manufacturer's technical department, as well as by laboratories and external technological institutes. And it seeks to facilitate product handling and knowledge, but it cannot be taken as an argument for any claim.
Always use the chemicals safely . Always consult the label and the product information before its use.
The technical data for the product contained in this technical data sheet may change without any prior notice.
Eximcorp reserves the right to make modifications to the technical data and the materials contained in this document without prior notice with a view to keeping up-to-date with technological progress and the new developments.
Disclaimer:

Eximcorp India Pvt Ltd, does not assume any responsibility or admits any liability whatsoever for the number of uses or re-uses or repetitions or damages to the Beams for reasons not attributable to manufacturing defects or for several other factors affecting the performance of the product. In the event of any UNUSUAL occasional damages in excess of the AQL (Acceptance Quality Level) of 2% established by the trade practices and also so declared by the seller hereby, the replacement of damaged beams or refund of value shall me made expeditiously by the Seller as soon as possible without any further or other recourse to consequential or other losses.
Related Documents